Dallas Furniture Bank is a nonprofit, tax-exempt 501(c) 3 agency. Your furniture or cash donation is tax-deductible as a charitable contribution to the full extent of the law.
DFB strongly depends on support from private foundations and other funding sources to continue the vital work that we provide to the Dallas community. Without your support, we would be unable to carry out our mission and sustain our program service to those families who are transitioning from homeless environments or situations of need. DFB is grateful for the support of our funders!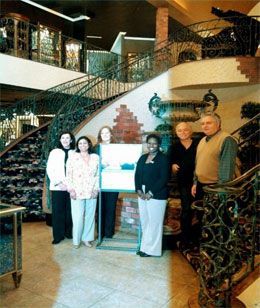 Dallas Furniture Bank Appreciates Your Support! You can make a difference.
Baron and Blue Foundation
Carl B. & Florence E. King Foundation
Community Foundation of Texas
Dallas Mavericks Foundation
The Embrey Foundation
Fannie and Stephen Kahn Charitable Foundation
George and Fay Young Foundation
Gil & Dody Weaver Foundation
Harold Simmons Foundation
Hillcrest Foundation
Hoblitzelle Foundation
The Hoglund Foundation
Howard & Leslie Schultz Foundation
Martin W. & Bettie J. Halsell Foundation
The Meadows Foundation
The Mike and Mary Terry Family Foundation
National Council of Jewish Women
Rees-Jones Foundation
The Rosewood Foundation
Roy & Christine Sturgis Charitable Trust
Stemmons Foundation
Women of St. Michaels
M. B. and Edna Zale Foundation
Park Place Season of Giving
Dallas Furniture Bank is grateful to receive gently or lightly used basic household furniture items and home furnishing accessories.
DFB is sustained by the generosity of our donors. Your financial contributions greatly impact and improve the quality of life, self-esteem and chance of success for those individuals/families in need.