Dallas Furniture Bank (DFB) has provided furniture for over 6,000 families, since 2003. DFB has touched the lives of over 17,000, and will serve many families and individuals this year. Basic household furniture gives a family the sense of pride, hope, stability, as well as giving a safe and well-equipped environment.
What a few of our clients say:
"I was in a homeless shelter with my son since he was 3 months old. He is almost 2 years old now. I was finally transitioning out of homeless service and I was going to be able to have my own apartment, but I didn't have any furniture at all (I never have), or money to buy my own furniture ... They gave me a referral for your services ... My bed is wonderful. So is my couch. I LOVE the matching nightstands. I hope more people get the chance ... like me ... I feel like I have a home instead of an empty house. I feel like I made it through the bad ... as I am trying to rebuild my life, I would have an empty house if it wasn't for y'all. When I come home and see my house full of nice furniture that I get to keep, I know I made it. I'm blessed ... I am so thankful! Thank you to everyone who made it possible for me and my son to have such nice furniture. I just don't know what words describe how much I really appreciate being able to have nice furniture."
Erin - Received a sofa, bed, recliner, coffee and end table, 2 nightstands, 2 lamps
"I am more confident. I will be able to have family and guests over."
V.R. - referred by North Dallas Shared Ministries
"My kids and new baby will have somewhere to sleep."
L.C. - referred by Children's Medical Center
"By my surroundings looking better, it makes me and my family feel good."
G.E - referred by The Wilkinson Center
Victoria's Story
Victoria, a 32 year-old mother of four, came to DFB for service. She had recently entered a transitional housing program at a DFB partner agency. Victoria realized that she had to seek assistance to care for her children and get back on her feet, after fleeing an abusive marriage and completing a program at an alcohol and drug rehabilitation center. Once her treatment was finished, she regained custody of her children and renewed her desire to improve the lives of her family. She re-enrolled at a local community college to finish her education.
Victoria knew that having a comfortable place to live was the foundation that allowed kids to do well in school, and for her to do well as a parent. Receiving furniture from DFB was a pivotal step in Victoria's return to stability. When DFB provided furnishings to Victoria's apartment, she began to cry. She received sofa sectional, living room accessories, a dining table with chairs, bunk beds for her girls and a bed for herself and her son. While she and her family received other furniture additions, these were their most treasured pieces. Her children were extremely excited, and her youngest daughter, who liked to be called "Mariah Carey," danced all over her home to express her joy about the furniture additions to their home!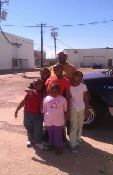 The Williams Family
The Williams family visited the Dallas Furniture Bank (DFB) warehouse on our visitation day. They were in desperate need of beds. Dorothy Williams, grandmother to eight children, had taken on the custody of all of the grandchildren when their mother was incarcerated. Her home was not equipped for her many grandchildren. The cost of furniture at thrift store or garage sales was prohibitive, however upon visiting DFB, she was able to afford beds for her grandchildren (five pictured here with her outside of our Carrollton warehouse), and a sectional sofa where everyone could sit comfortably.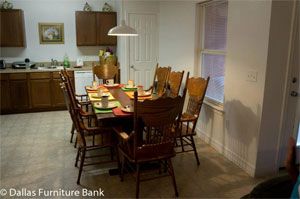 The Mpiana family
The Mpians, a family of eight siblings was served by Dallas Furniture Bank. They are a family of 8 siblings, who moved to the U.S from Zambia. Due to the size of their family, and being able to afford to house that would accommodate the entire family, they had been unable to live together. The eldest siblings successfully completed a program through Habitat Humanity, enabling them to own their first home. The new home brought the Mpiana together. DFB added to their new life by supplying a large dining room table with chairs, which aids in the family's new togetherness and the making of many family memories.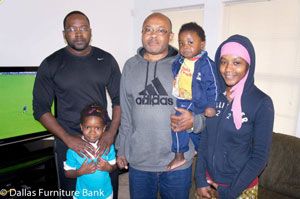 Since 2003 ,Dallas Furniture Bank has strived to serve the community as the only agency in the Dallas Metro Area whose sole mission is to provide basic furnishings to those in need. Those we serve include: senior citizens, those fleeing domestic violence, refugees, the working poor, veterans, single parents and those dealing with natural disaster or medical emergencies. It is staggering to know that of all the children who we impact, 69% of them are under the age of 10.
Dallas Furniture Bank is grateful to receive gently or lightly used basic household furniture items and home furnishing accessories.
DFB is sustained by the generosity of our donors. Your financial contributions greatly impact and improve the quality of life, self-esteem and chance of success for those individuals/families in need.